So last night was the 2013 Met Gala which saw the dress code: PUNK. Many of you will probably be thinking "strange!" but trust me, you will be shocked.
Let's start with Best Dressed;
Miley Cyrus - BEST DRESSED
Many of you will be hating my decision, But I absolutely LOVE this. I'm a massive fan of Miley's style and she just looks phenomenal in this Marc Jacobs fishnet dress. The hair is spot on too!
Anne Hathaway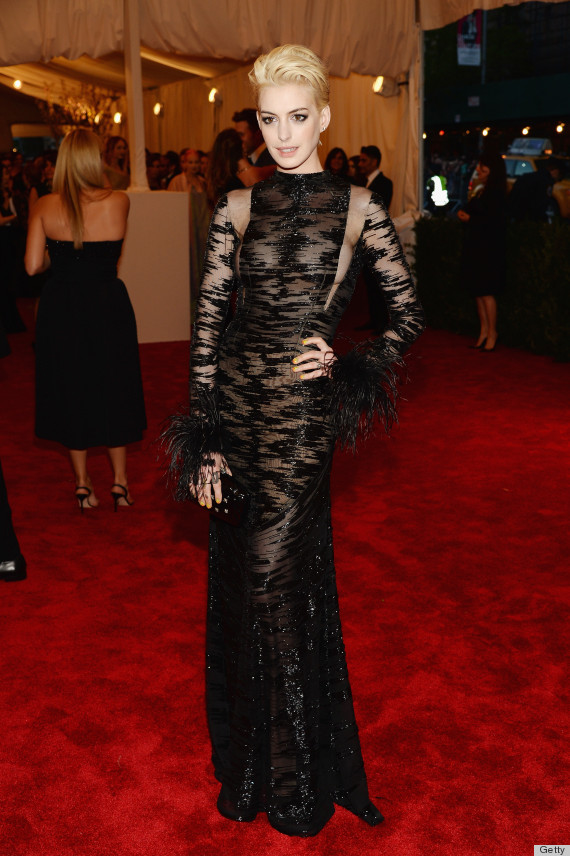 Rocking her new blonde cut, Anne didn't fail to wow people with her new look.
Anne always looks stunning and I think the Blonde do is so gorgeous. She really did this Vintage Valentino dress justice.
Nicole Richie
Love it or Hate it, I think she looks amazing. Everyone is talking about the hair, I don't think it's permanent but it's quite cute. It doesn't really suit her skin tone very much, but hey, It's Nicole Richie! She was born to be a fashion icon!
Rooney Mara
Rooney looked exceptional with this gorgeous Givenchy dress, She really did the dress justice with her natural makeup, The dark lips really set the look off which made the overall look superb.
Worst Dressed;
Madonna - WORST DRESSED
Oh Madge, What are you doing?! Yes, you got the memo but whoa too much!
You have passed your sell by date and look horrendous don't even start me on the hair, oh dear lord!
Ashley Olsen
An Orange comes to mind when I look at this. Ashley what are you doing? You are supposed to be one of the most fashionable people on earth.
Gwyneth Paltrow
This was either going to be a major hit or a major miss, and you missed.
Not only is there no element of punk in this look, you look like a Quality Street.
Too pink Gwyneth!
Jessica Biel
This is just not a good look, The black netting is HIDEOUS, It really is a good job you are pretty because I'd dread to think what it would look like on an ugly person. Please, never wear anything like this ever again. Unless you are dressing up as a Pregnant Spider for Halloween.
Opinions?
Khol X